Radio network for Smart Grids & SCADA
Wide area network
Feasibility studies & spectrum band evaluation
Coverage, traffic & reliability analysis
Regulatory framework
Spectrum Management Services
License fee optimization
Automated workflows for corporate frequency management
Simulation, reporting & controlling
Wind farms and high voltage electricity pylons
Calculation of the effects of wind turbines (WTG) and high-voltage pylons on microwave links and radio services
Calculation of protective distances
Success Story
Read about Amsterdam Airport Schiphol becoming a "Leading Smart Digital Airport"
Success Story
5G Products and Services

Downloads

Success Story
Integrated radio assurance solution
Business portfolio
Planning
Services and tools for conception, design, realization & optimization of reliable, highly available & safe indoor & outdoor radio networks.
Management
Workflow-based approval & management processes for radio communication infrastructure & users. Management solution based on a central spectrum database, co-existence, analysis, governance & internal rules.
Mapping
Spectrum inventory measurements & coverage simulations to validate the current spectrum usage. Identification, location & assessment of unknown transmissions. Improving the data basis for future decisions.
Guarding
Permanent spectrum monitoring as a preventive early-warning system to avoid, identify, locate & solve network problems. Avoiding problems preferably before they become safety or business critical.
Trouble shooting
Elimination of identified problems & issues.
One of our success stories...
Amsterdam Airport Schiphol commissioned LS telcom for frequency management & licensing to become a "Leading Smart Digital Airport".
The challenge
Ensuring a safe, interference- and incident free radio environment at the airport while providing enough radio frequencies for all radio networks, services and applications
required at the airport under the growing demand from all customers for wireless air and ground communication.
The solution
Development of a general licensing framework and introduction of an automated spectrum management system including a frequency database and radio monitoring capabilities accompanied by consulting and supporting professional services by LS telcom experts.
The result
Amsterdam Airport Schiphol now has full visibility of the used radio spectrum and infrastructure. They deliver their customers excellent, highly reliable, interference-free and save radio services at the airport. The airport can detect incidents, misuse and illegal frequency use and react immediately. This contributes to the general safety at Schiphol Airport and improves its overall positive passenger experience significantly.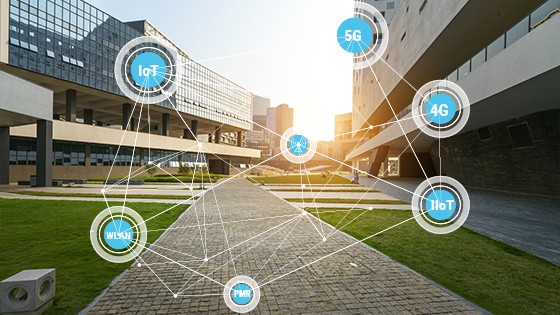 Take ubiquitous connectivity to the next level: Private Wireless Networks
For digital networking to function smoothly and trouble-free, airports need a reliable network that promises bandwidth, security and data sovereignty. The requirements for such a network must be individually adapted and tailor-made. Large volumes of data must be transported securely and reliably. Sounds complicated and almost impossible at first - but it is not. The solution: a private wireless network.
Reasons for a Private Wirless Network:
Exclusive radio spectrum assuring high quality of networks
Availability of full network capacity
Radio network design based on airport specific requirements
High level of security with full access control
Exploit advantages of 5G technology
Visit the LS telcom Web Store
Lease our software and digital mapping data, and register for our Training Academy offerings!