The digitization and modernization of existing structures are increasingly becoming important in the field of medicine and healthcare. Be it better and more efficient hospital care, cross-sector communication or telemedical applications - the healthcare sector (with a focus on hospitals) has a high demand for ensuring digital treatment and care processes. Precisely because it is a demanding environment, it is essential to ensure high availability and the associated security of networks.
5G plays an important role here: Due to the high data transmission rates and at the same time the low latency compared to 4G, the use of a 5G network opens a wide range of possibilities in the field of telemedicine, such as for example using advanced wireless surgical devices and augmented reality (AR). But also from an administrative point of view – e.g. when it comes to the implementation of digital patient records - 5G has many advantages in the hospital, which should relieve staff and optimize internal processes. Additionally, this new technology offers the possibility of changing previous ways of (remote) diagnostics by making use of artificial intelligence or augmented reality.

Besides 5G, there are other additional radio services that build an essential basis for the assurance of seamless connectivity and mobile broadband services in hospitals. Whether it's WIFI for managing digital patient records, Bluetooth and / or LoRa for indoor positioning and tracking objects such as mobile X-ray machines, or IoT to enable the collection and tracking of medical data - especially in the hospital environment, a variety of devices and machines communicate with each other.

Such a complex and demanding radio environment needs to be planned properly and above all managed holistically. Only then it is ensured that the variety of different radio services can safely coexist. Smart spectrum management processes help you organize and manage all used frequencies which is the key to a clean radio spectrum. Additionally, continuous radio monitoring ensures that interference gets proactively detected and the interferer localised, avoiding downtimes of crucial applications.
Customer Magazine

Critical Communications Brochure

Download further Information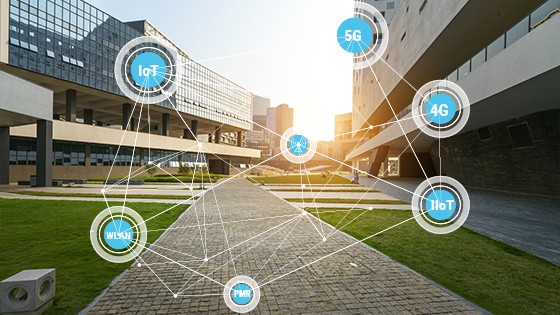 Take ubiquitous connectivity to the next level: Private Wireless Networks
For digital networking to function smoothly and trouble-free, airports need a reliable network that promises bandwidth, security and data sovereignty. The requirements for such a network must be individually adapted and tailor-made. Large volumes of data must be transported securely and reliably. Sounds complicated and almost impossible at first - but it is not. The solution: a private wireless network.
Reasons for a Private Wirless Network:
Exclusive radio spectrum assuring high quality of networks
Availability of full network capacity
Radio network design based on airport specific requirements
High level of security with full access control
Exploit advantages of 5G technology