The LS telcom Training Academy offers a vast selection of training courses covering a variety of topics in broadcast, telecommunications, spectrum management and monitoring. This includes training on latest radio technologies and regulations, radio network planning, spectrum management, as well as basic and advanced training on LS telcom's software tools. A large number of delegates have received professional training from LS telcom since the foundation of our Training Academy in 2003.
Customized Training
If you shoulder the responsibility of choosing training for your organization, you know how difficult it is to find a training provider who is an expert you can rely on, is easy to work with, will work within your training budget – and can deliver exactly what was promised. That's where we come in. We cannot only provide you with world-class training, we make it incredibly convenient! With Customized Training, you choose the time and the place, and we'll be there with a skill-building training program tailored to your organization's unique needs. Find out more...
All our course content is permanently revised and updated. We guarantee that the content is always up-to-date with regards to technology and regulations. Latest changes in recommendations, regulations and standards are immediately incorporated into our courses.
The training facilities of the LS telcom Training Academy at our headquarters in Lichtenau/Germany are designed exclusively for training courses, seminars and workshops. Several seminar rooms in different sizes, and equipped with state-of-the-art teaching technology, can accommodate courses and events from 2 to 200 participants. Modern training facilities also exist in our offices in Ottawa/Canada, London/UK and Paris/France.
Our team is pleased to assist you in booking the overnight accommodation. We have special rates at several partner hotels in the city of Baden-Baden and around Lichtenau. Just ask!
Our Trainers
Together we can make a difference
Our faculty of more than 35 training professionals is the key to our successful training. They are carefully selected for their experience and knowledge - and most importantly - their teaching methods and ability to impart knowledge. Our professional lecturers and specialists are covering a wide range of expert knowledge and practical experience. The courses involve modern teaching methods, training procedures and computer based learning.
Customized Training
Tailored to your needs...
The courses or dates in our standard training program may not entirely correspond with your training needs or that of your organization. This is why we offer customized training, from individual training to group training through to extensive skill building programs for your organization. You have flexibility in location, format and scheduling.
Customized Training can be held anywhere, at: the LS telcom Training Academy, your headquarters, a branch office or even at a nearby conference center or hotel. You also have options in format: full day, three-day session, five-day programs or ongoing modules. Finally, you have flexibility in scheduling. Training can be delivered any day of the week. Whatever makes it most convenient and cost-effective for your organization.
On-Site Training
Skill-building training tailored to address your organization's training requirements.
On-Site training is the perfect choice for companies that need to train groups of employees. You get a maximum number of employees trained in new skills in a minimal amount of time for one flat fee. We discuss your organizational training needs with you and tailor a skill-building program for you with the course modules on the right. We can even design a new course for your organization.
Training on the Job
You need advice on how to make your daily work easier or on how to improve processes?
Our experienced consultants, radio engineers and spectrum managers will accompany you during your work and will suggest ways for more efficiency. Topics suited for "training-on-the-job" are typically Database Handling, Definition of Planning Parameters, Tool Calibration, Network Design, Spectrum Planning and Frequency Coordination, ITU Notification, etc.
Enjoy your stay in the beautiful Black Forest...
If you decide to participate in a training at LS telcom you have a decisive advantage: You can combine business with pleasure!
Visit Baden-Baden and enjoy the architectural delights from the Belle Epoch period, quality art exhibitions and cultural events. There are plenty of recreational offerings and interesting places to visit nearby after a studious and buys training day. The well-known city of Baden-Baden is just 20 km away from the LS telcom Training Academy.
Your Evenings in Baden-Baden
You may want to go for an evening walk and pass the Baden-Baden theatre, walk along the famous Lichtentaler Allee or visit the Baden-Baden castles. The Caracalla Spa, in the heart of Baden-Baden, offers wellness and relaxation on a heavenly scale. 12 natural springs provide an unforgettable bathing experience in this 3000 square foot glass temple. Or you may enjoy the fantastic restaurants. There is something for every taste, from savory regional cooking to international, Mediterranean style cuisine.
Festspielhaus Baden-Baden
Experience a memorable musical treat by taking your seats at the town's Festspielhaus, Europe's second largest opera and concert hall. Opened to the public in 1998, the Festspielhaus, with its world acclaimed acoustics, offers a diverse agenda of musical performances featuring top international artists.
Casino Baden-Baden
What could be better than to round off the day of training, in style, in the magnificent surroundings of Germany's oldest Casino, the Casino of Baden-Baden? You will be amazed at its extravagant interior and gripped by the thrilling suspense as you tempt fortune.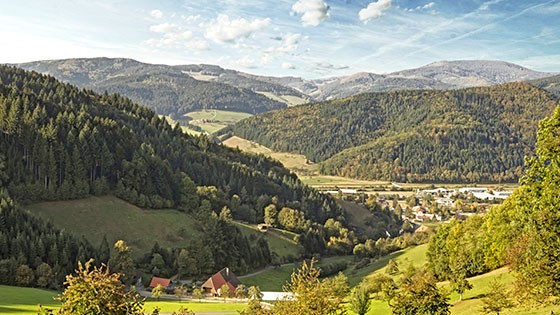 The Black Forest is one of the most beautiful regions of Germany and a world-renowned holiday destination. In December 2000, the Black Forest Nature Park Central/North was founded with the aim of conserving and developing this region in a sustainable way. With an area of 926,625 acres (375,000 hectares) the Black Forest Nature Park Centre/North is the largest of its kind in Germany and has approximately 700,000 inhabitants.
But our nature park between the rivers Rhine and Neckar is special not only because of its size: Impressive landscapes, extensive forests, rock formations, deep canyons, clear springs, lakes, gushing rivers, beautiful meadows and peaceful pastures are all there for you to discover.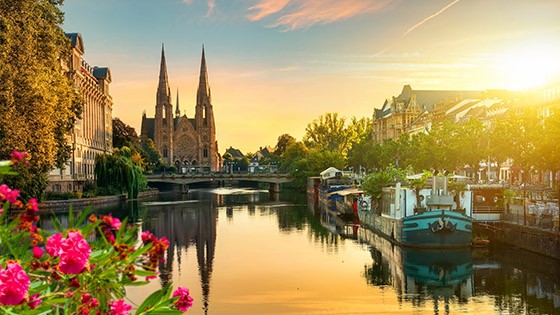 Only a few minutes away from LS telcom you cross the river Rhine and will find Alsatian villages with half-timbered houses, potteries and many typical restaurants with Alsatian cooking. The most famous city in the Alsace is Strasbourg with its multitude of sights. In the heart of the historical center of Strasbourg you find the superb Cathedral of Notre Dame with its single tall spire and the famous astronomical clock. Not far from the center you can take a walk through the picturesque Petite France Quarter. And there is much more for you to discover...
If you book a full-week course, you may want to take the opportunity go to Paris for the weekend. From Strasbourg to Paris it takes less than two hours by fast and very comfortable train, the "TGV".
The Europa-Park offers a large variety of attractions for all tastes. There is a lot to discover and to experiment. Dare a roller coaster ride at 73 m above ground, at 100 km per hour or around two enormous mirrored towers. New sensations guaranteed! If you prefer the more quiet experience, you will enjoy the country-themed sections, the flying theatre – the biggest in Europe – the adventure land, enchanted forest or else the water park. You won't regret your day in the Europa- Park!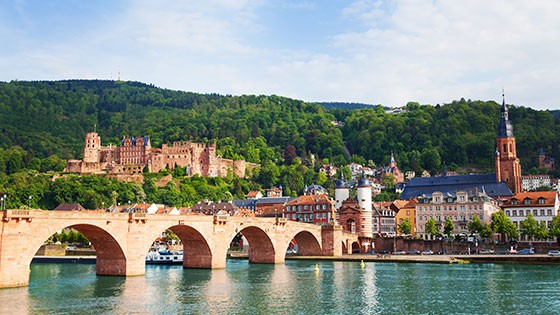 Heidelberg is considered to be one of the most beautiful cities in Germany. The city offers the ideal combination of romanticism and twenty-first century reality. Every year, the city which lies on the Neckar fascinates millions of guests and gives something to discover and experience for everyone. The picturesque ensemble of the castle, the Old Town, and the river Neckar surrounded by hills, which inspired the poets and artists of romanticism. But there's more to Heidelberg than romanticism. Heidelberg with its picturesque lanes and squares will invite you for shopping and strolling around. It will be an unforgettable experience!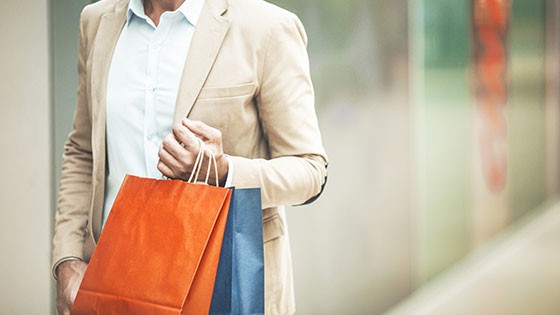 Located directly on the border with Germany round about 20 minutes from Lichtenau, the Roppenheim Outlet Center is one of the largest in Europe. An interesting mix of internationally known and smaller French brands is offered. You can expect a cosy shopping atmos-phere, reminiscent of a picturesque Alsatian small town. Small bistros and cafes will invite you for some fresh drinks and small snacks.
Have fun shopping in Roppenheim!